WELCOME TO FKTE
Faculty of Electrical Engineering & Technology Official Website
ONE OF THE WORLD'S TOP YOUNG UNIVERSITIES
Ranked #151-200, 2020 THE Young University Rankings
Learn More
Why Electrical Engineering @ UniMAP?
Ranked among the very best faculty in the world

One of The World's Best Universities
Ranked 401-450 in QS WUR for Electrical and Electronic Engineering Subject

98.1% Graduate Employability Rate
No. 1 in UniMAP Source: Ministry of Higher Education Malaysia Graduates Tracer Study 2021

100% Accredited Programmes
All our programmes are globally recognised and accredited by Malaysian Qualifications Agency & Engineering Accreditation Council Malaysia
Choose your level of study
Explore our postgraduate study areas
Join our short courses specifically developed for students and working adults to fulfil your unique learning experience, whether you are seeking for professional courses or even tailored programmes to up-skill or re-skill yourself to be a better match for the industry.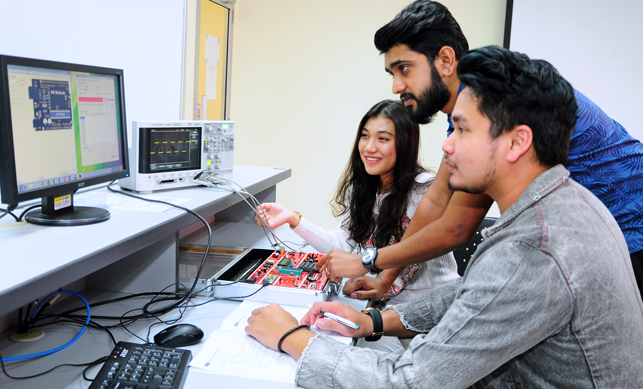 Do you want to improve your qualifications, improve your professional prospects, and enrich your personal growth but can't seem to find the time? Don't be concerned. FKTE UniMAP's flexible Weekend and Evening Classes Degree and Master Programmes for working adults will enrich your personal and professional progress.
Happy Birthday to Associate Prof. Dr. Haziah Abd Hamid, Dean of Faculty of Electrical Engineering
Read More »
Terima Kasih Ybhg. Prof. Ir. Ts. Dr. R. Badlishah Ahmad di atas segala jasa dan
Read More »
Tarikh: 7 April 2021Masa: 10.30 pagi – 12 tengahari
Read More »
Power systems engineering, which is also known as power engineering, is a division of electrical
Read More »
I am sure that everyone is familiar with electrical engineering, but ever heard of high
Read More »
Deep-rooted from electrical engineering, the world of power electronics takes its mesmerizing form. Having seen several advancements
Read More »
Kick Start Your Electrical Engineering Career With Us.

Follow Us On Social Media:
School of Electrical Systems Engineering
Universiti Malaysia Perlis
Pauh Putra Campus
02600 Arau, Perlis

Phone: +604-9885601
Fax: +604-9885602
© 2021 Copyright Faculty of Electrical Systems Engineering UniMAP. All Right Reserved